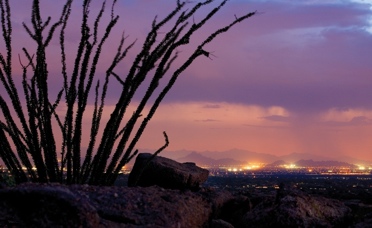 Esperanza sits adjacent to The Estancia Club, a celebrated golf course and club ingeniously designed by Tom Fazio to integrate into the land as if it had always existed. Not a shrub nor a rock nor piece of ground was touched until each step was reasoned in line with a reverence for the original nature and beauty of the desert. Under Fazio's guidance the 18-hole course came to life, and with the opening shot moved to the top tier of every ranking.
The Estancia Club now ranks among the finest golf facilities in the world, and is heralded by golf critics around the globe. By all rankings and ratings, Estancia was not only an instant success but also an endearing classic in terms of the criteria used to judge a course – shot values, design variety, memorability, aesthetics, conditioning and ambience.
Several of the home sites at Esperanza offer golf frontage, and golf memberships will be included with the purchase of any home site in the Esperanza community. Estancia Golf Memberships are subject to Estancia Club Board approval.

Design Guidelines
Intentionally created for true, estate-style residences, the parcels at Esperanza afford generous building envelopes of nearly four acres on average – accommodating homes of 6,000 to 30,000 square feet or more. Buildable area is ideal for the luxurious upscale lifestyle – whether it's large areas of turf, guesthouses, tennis courts and ramadas, resort pools, pool houses or structures for specialty collections. Every lot has exceptional and unobstructed views of Phoenix – you can see for miles. And all are situated hillside on a gentle slope, making lot prep costs virtually non-existent.
All homes and structures require special attention to height, massing, scale, balance and proportion due to the potential size and scope of the estate-style investment. Material selections and their integration, along with consideration of color, texture, landscaping and solar orientation on the site are important factors to consider when preparing designs for the Design Review Committee; therefore, a qualified architect is required when building in Esperanza.
Some limitations exist to comply with existing city of Scottsdale building restrictions and to achieve the sense of community, respect for the environment and protection of property values that is important to everyone in Esperanza. We encourage you to read the complete Design Guidelines provided with your property purchase.
For a personal tour of the property, contact:
The O'Keefe Group/Dan Wolski
Russ Lyon | Sotheby's International Realty
480.266.7557
Dan.Wolski@russlyon.com