Paradise Valley lies just to the west of Scottsdale, Arizona and enjoys many of the same amenities as Scottsdale but is closer to Phoenix.
Paradise Valley has several golf courses and those in Scottsdale are just a short drive away. If north Scottsdale homes are too far away from the city life of Phoenix, then Paradise Valley may be just the place for you. (Additional community information below map.)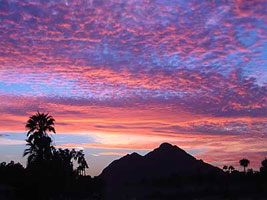 History of Paradise Valley
During the late 1800's, cattle grazed in the area surrounded by the McDowell Mountains to the east and Camelback Mountain to the south. In the 1880's, the Rio Verde Canal Company turned this open grazing area into irrigated farmland. In 1889, the Rio Verde Canal Company sent three surveyors to this area who were so taken by the beauty and tranquility of the desert landscape that they named this area Paradise Valley.
Settlement in Paradise Valley did not begin in earnest until post World War II. Paradise Valley, which is in Maricopa County, was a rural residential area with few commercial entities. Though the homes were modest in size and style, they were on large parcels of land, usually one to five acres.
In the late 1950's, Phoenix and Scottsdale were looking to expand their respective boundaries. Residents who lived in Paradise Valley area feared that they would lose the rural lifestyle to which they had become accustomed. These concerned residents formed a "Citizen's Committee for the Incorporation of The Town of Paradise Valley, Arizona." They set out with petitions urging residents to join them in their attempt to incorporate Paradise Valley. The residents' main goals were to keep zoning to a one house per acre minimum; to keep the area entirely residential; and to keep government regulation to a minimum. In April 1961, the Citizen's Committee for Incorporation presented their petition to the Maricopa County Board of Supervisors. On May 24, 1961, incorporation was granted and the Town of Paradise Valley was established.
By 1968, the boundaries of the Town of Paradise Valley were pretty well set, with only a few scattered county islands and a handful of neighborhoods adjacent to the Town boundaries that would eventually be annexed. In 2000, with a population over 13,000, only two county islands remain — the community of Clearwater Hills west of Tatum Boulevard and the Franciscan Renewal Center on Lincoln Drive.
Throughout the Town's 40-year history, the residents have strived to preserve the Town's original mission — to maintain a residential community in a quiet and country-like setting with little government intervention.