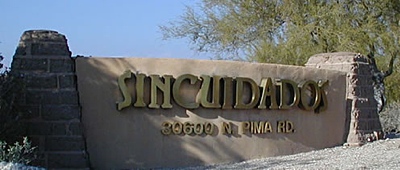 Sincuidados is a serene, non-golf community of custom homes on large lots. Homes range in size from 2,900 to 8,000+ square feet. Design Guidelines encourage the use of Santa Fe or Territorial style architecture.
Community amenities include tennis courts, a clubhouse, private streets, 24-hour security, and open access to the Wallace Desert Gardens and the Lone Mountain Preserve. (Additional community information below map.)
Wallace Desert Gardens, located in the heart of the community, is home to thousands of desert plants and is one of the world's largest private collections of cacti and succulents. Focusing primarily on plants native to the arid lands of the Sonoran Desert, Mexico, Australia, and Africa, Wallace Desert Gardens offer a place of peace, beauty, and tranquility. The Gardens encompass 12 acres of cultivated gardens and six acres of natural vegetation.
The Lone Mountain Preserve is part of the Wallace Gardens' property. Lone Mountain Preserve features 78 acres with walking trails in a natural Sonoran Desert habitat. It is forever protected from development under a conservation easement to Desert Foothills Land Trust.
Both properties owe their existence to Henry Browne Wallace, who was known as H.B. to his friends, and his wife Jocelyn. H.B. Wallace was an extraordinary horticulturalist with a passion for arid land plants, although he knew little about them until he moved to Arizona in the early 1980s.
In over 20 years of existence, the Wallace Gardens have expanded to include over 2,500 species of arid land plants from all over the world. When he died in 2005, H.B. left this magnificent property to a 501(c)(3) tax-exempt foundation created with a vision of providing opportunities for research, education and conservation.