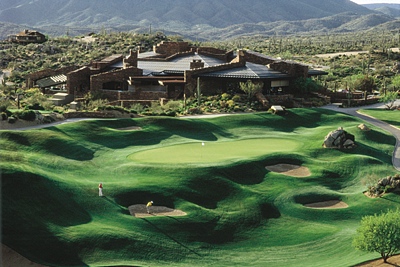 Community Homes $1 Million – $2 Million
Desert Mountain is the best active outdoor lifestyle and golf community in the world.
On January 1, 2011 The Desert Mountain Club made history by transitioning to a member-owned equity club in what would be the largest club turnover in America.
With Desert Mountain's destiny and legacy now in the hands of its members, the club is bursting with new energy and enthusiasm. Golf on the six signature Jack Nicklaus golf courses remain the community's mainstay, but there's so much more. How about the onsite 3,000-acre desert preserve laced with hiking and mountain biking trails? How about access along Desert Mountain's northern border to the 3,000,000-acre Tonto National Forest and its unlimited hiking, camping, and exploring? Or what about the close access to Bartlett Lake, or the Mazatzal Wilderness, or the Spur Cross, Cave Creek, and McDowell Mountain County Parks?

Desert Mountain — with its six clubhouses, world-class tennis, swim and fitness centers, remarkable golf pro shops, and fine dining facilities — is located in an epicenter of outdoor recreation within the Upper Sonoran Desert.
When considering Desert Mountain there is so much more to experience than previewing homes. Our TEAM is well versed in all of the special treasures at Desert Mountain and we are ready to help you step outside to really EXPLORE that active outdoor lifestyle in what could be your own backyard!
Discover rarely-seen Hohokam sites where pottery shards and remnant stone walls hint of ancient villages.
Put on your rain gear and join us for an epic "Monsoon Adventure" where your grandkids can gaze in wonder at a 60-foot-tall waterfall cascading between saguaros.
Picnic with your family in secluded riparian areas with trickling streams, grassy enclaves and lush deciduous trees beneath a bright blue sky canopy.
Pedal your road bike until you are exhausted and stay within the gates of Desert Mountain? Ride with us to "The Five Fingers", or "Y2K", or a half-dozen other routes that never leave Desert Mountain!
It's true, Desert Mountain's members and owners are the luckiest people on earth.